I've been doing a lot of thinking about why I would ever attempt to hike 2200 miles. Many people I mention this hike to have the first response of "Are you crazy?" Most of the time I just say "Yeah probably", but now that I am about to embark on this journey of a lifetime I wanted to really think about my reasoning for hiking the AT. Lots of people have reasons like finding themselves, or for a person who passed away, etc. I don't have anything like that. I just love to hike. It's as simple as that. I have wanted to do this hike since I was a little girl. I have been doing a lot of reflecting about this and finally realized why I'm doing this. I am doing this for all the people who have shaped me into the hiker I am today.
So the next couple posts are a tribute to all of those amazing people. (Sorry if I forgot anyone! I have hiked with so many people!)
My first memory of hiking happened when I was 6 years old. My parents decided to take 6 year old me and my 12 year sister on a hike to Mount Washington. We stayed at Lake in the Clouds hut and watched the fireworks on the 4th of July. I don't remember much from this hike other than going up the Ammonoosuc trail and there was a large water crossing. Note that I am not a large human now, can you imagine 6 year old me? Well, my dad had to pick me up and carry me. This was the time of the external frame bag…You can imagine what happened next. My dad picked me up and my head hit against the metal frame (Explains a lot huh?). My poor father cared for me as I cried for the next 20 minutes. As always, hiking comes with a little bit of pain and I enjoyed the rest of the hike with the exception of going down the Jewel Trail the next day because it took FOREVER. So as you can see, I had a very enjoyable first big hike right.
NOT
But that's okay, it's still a fun story and a part of my formative years as a hiker.
The people who have been the most supportive of my plans to hike the AT have been my family. My mom, dad and sister are 100% on board and in some ways just as and even more excited than I am. My sister and I talk gear, supplies, and websites probably every other day. My mom is flying down with me to send me off and my dad keeps asking how many more days until I start. So 10/10 best scenario I can ask for as a burgeoning hiker. My family has essentially spent years hiking in NH. They have come on multiple 4Ks with me so I didn't have to hike alone, often hiking behind me as I run up the mountain and turning around when they meet up with me. That was super helpful when I did not have as many hiking friends and didn't want to do the drive alone. My favorite hike I have done with my family is the Laugavegur Trail in Iceland. My whole family hiked 55K across a section of Iceland. I was so proud of them and this was probably the best family vacation we have ever had.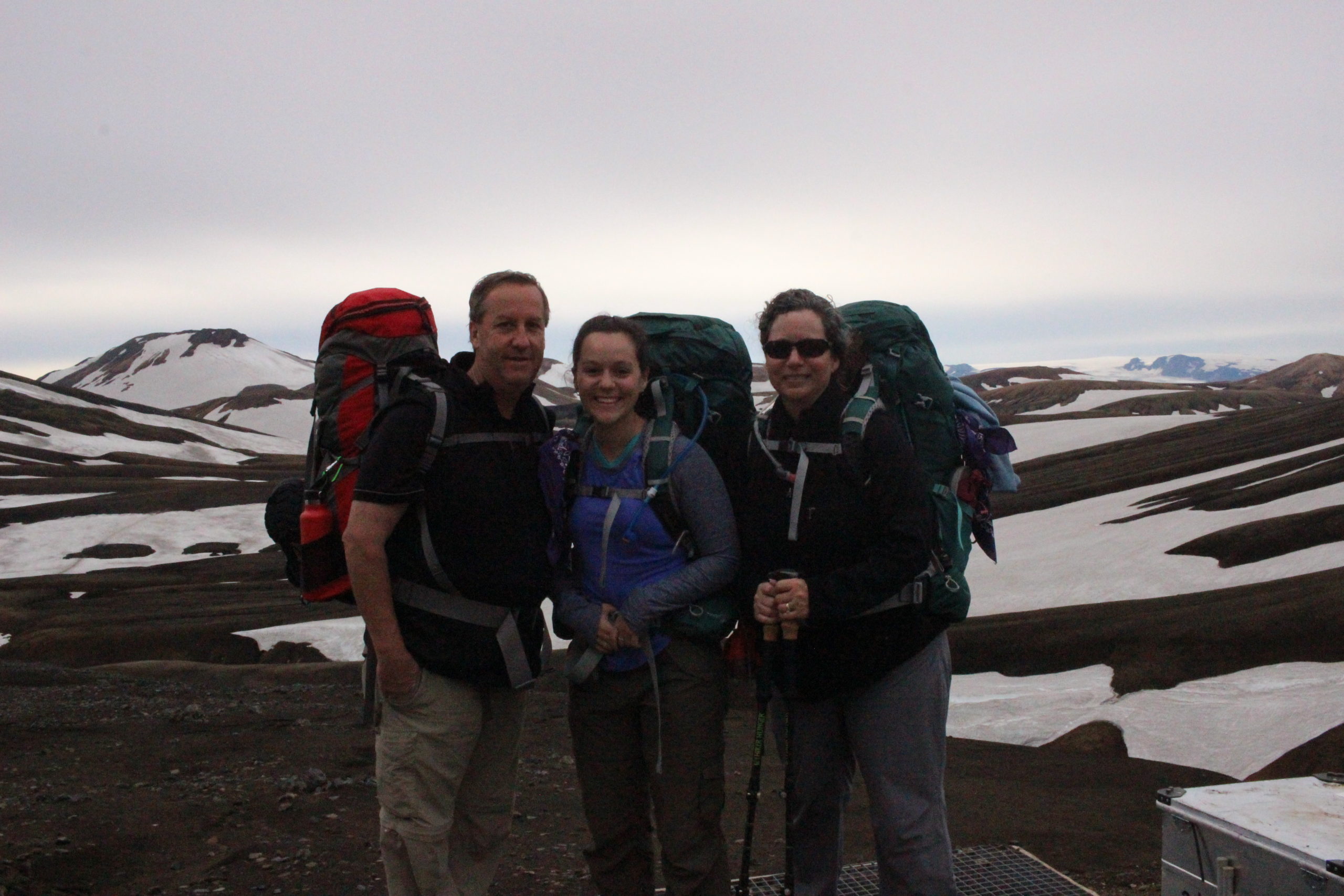 I could go on about my family and how supportive they have been with my hiking and how I truly attribute my love for hiking to them.
As long as we are talking about hiking experiences while younger, I need to talk about the family who took me hiking ery memorial day weekend: The Lanes. Every year I would go camping with the Lanes. Jill Lane is my childhood best friend. She did not like hiking that much when we were kids. Her parents on the other hand were hikers like me. They had a goal to hike all the NH 4Ks together, so naturally both their children were in really good shape. I on the other hand hated sports and physical activity so I was not in good shape. So when I say I struggled, that was an understatement. I have no clue what we hiked, but no matter how difficult it was for me I always had a smile on. These hikes were the only time physical activity didn't make me hate myself. I had the spark at a young age. I had the "this is really hard but I like the pain feeling of hiking". I do appreciate the Lanes for pushing me to hike with them. It truly helped create my love for hiking.
The last vivid childhood memory of hiking was when I used to go to camp for three weeks in the summer. I was always the theater kid at camp. I was in the show every year I was at camp. It was my thing. I can't remember the show, but this particular summer I had one of the leads or supporting leads. We had rehearsal everyday because we had to put the shows up with a quick turnaround. Well, my camp one day was offering a day hike excursion. I signed up immediately because I was a "hiker" and I can remember my director getting so mad at me. But here I was choosing hiking over theater and I don't regret it. I do attribute my love for hiking now to these memories as a kid and I don't regret choosing hiking over other things in my life even back then. Thanks Farwell for giving me those opportunities.