Lastly, I am going to talk about individuals that I have done multiple hikes with. These people are my biggest supporters next to my family when it comes to training for the AT and these poor people have probably listened to me drown on and on about my hike coming up.
Brian: You and I hiked 3 of my original NH 4Ks together and a couple other smaller hikes! Thank you for always being up for hiking when I asked you. I can remember texting you "Hey, do you want to hike with me?" on numerous occasions and you always said yes! You don't hike as much as me and my friends but man can you keep up and even go faster at times. I can't wait until we can hike again. When I hit the AT in NY I hope maybe you can spare a day to see me!
Tiffany: you started my terrifying 25 journey with me! We did 3 of the trails together and had a blast. Remember when I completely smashed my Apple Watch whoopsy! Happy Health reasons might have gotten in the way of our hiking but you have supported me in so many other ways on my journey!
Alyssa Mulno: You were one of my first friends that hiked NH 4Ks with me. You know what I was like before I was a hiker and how much I struggled. What a difference now. We did 7 of my original NH 4ks together. Thank you for helping me up those mountains in the early days of my hiking. We haven't gotten to do many hikes recently, but as soon as you are all healed up I'm waiting for you to meet me along the AT.
Tyler: HA HA. Do I need to write anymore? Oh, how our friendship over the years has made me laugh. Thanks for always being up for doing crazy hikes with me. You and I did my first 11mile hike together. I can remember we were WRECKED after. You are the person that always creates havoc on my hikes. For some reason we always get lost or take way longer than expected. I am starting to see a trend here.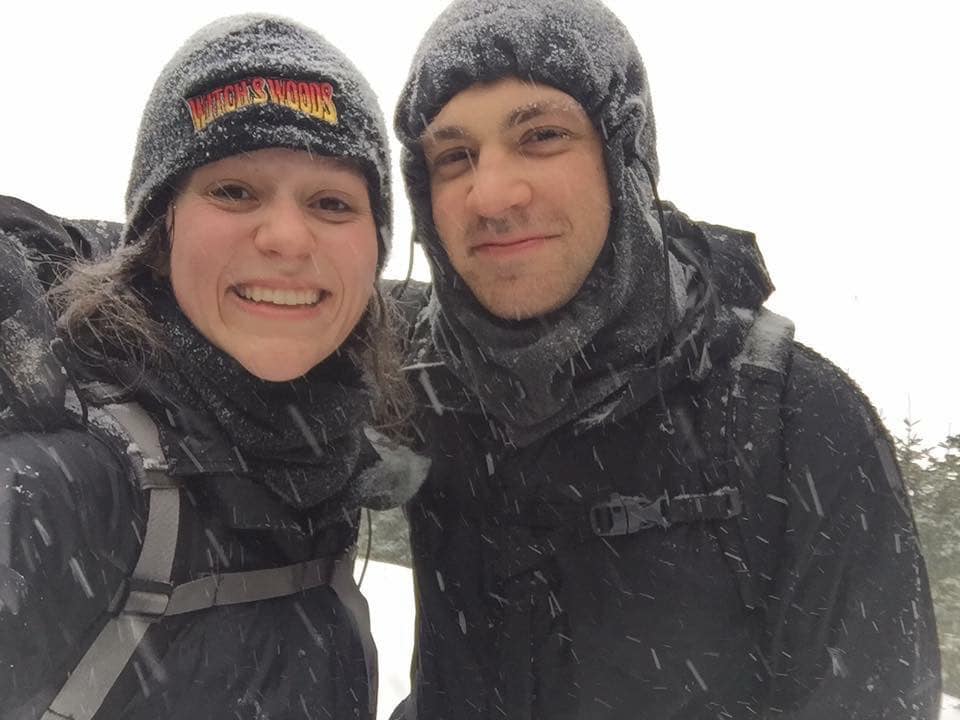 Erin: Okay we have only done one hike together but after reading my last blog post everyone can see why you are on this list. I can't wait to see what the AT brings for us both. As I tell you almost every day, I am so excited!
Austin: As with a lot of my hiking friends, it seems we also have a weird way of meeting. Thanks to Neal at our gym for showing off how strong I am because he really helped create such an amazing friendship. You hiked 10 of my original NH 4Ks with me. You were also the first person I have ever had a successful backpacking trip with. Our Semi-Pemi was incredible and I couldn't have imagined a better person to have hiked it with.
Corey: Here is another friendship of mine that happened by chance. Remember the story of Erin and Ollie in my last blog post? Well Corey was the guy who was with Erin. Since that random meeting, You and I have been on so many hikes. At least 2 a month? Our day where we hiked the northern presi's was incredible and I couldn't imagine another person to have hiked that with.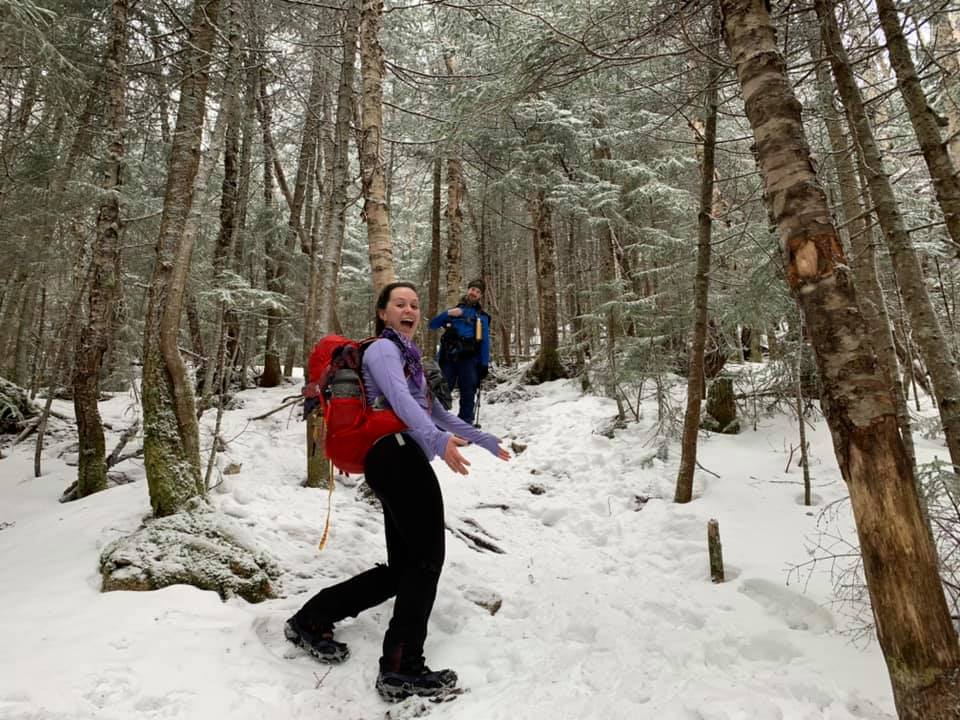 Will: Can I first say thank you to Instagram? Will was the person who gave me the energy and drive to hike all of the Vermont 4Ks. I had posted on my Instagram that was being lazy and didn't want to hike three days alone. Well he messaged me and was like "If you don't want to go alone, I'll hike with you." So yes, I did meet a random man from the internet and I am so glad I did! We have only hiked twice together but man were they hikes. The first was in Vermont where we hiked 2 Vermont 4ks. Then Will had a crazy idea to attempt a Single Season Winter 48 (SSW48: When you hike all NH 4Ks in on Winter. Crazy, I know) He messaged me one day and was like "Hey will you do a Hale/Zealand/Bond Traverse with me. Next thing I knew I was doing a 23 mile hike over 5 NH 4Ks. We started at 2:30 am to attempt to catch sunrise, got no sunrise because of clouds but still had an incredible day. Thanks Will for messaging me. I can't wait to hike again.
Jo: If anyone has ever heard me talk about Jo, they hear me say this woman is a badass British lady. Also attempting a SSW48, I know she's incredible. We met through our other hiking friend Alyssa F (addressed below). Since then, Jo has pushed me beyond limits I didn't think possible. Everyone knows I hate running, but then Jo came into my life and I found myself trail running with her. I know crazy. We have done some really fun and fast hikes. I can always count on her to answer my hiking pack questions and she is always sending me little tips and tricks on how to make my hiking life better on trail. I legit get a couple paragraphs a week on this and I am so thankful! She has been one of my biggest supporters when it comes to AT planning and I am truly grateful to call you one of my best friends.
Sarah: Sarah and I also met through Alyssa F and I am truly grateful and thankful for that. Sarah has become one of my best friends over the last couple months. You heard me talk about her in my last post on how I met Erin. She and I are just on the same level mentally and physically. We get each other. Hikes with her just make sense. Also we have some of the best conversations while hiking about our bodies and minds. I am truly grateful for all the thinking she has made me do. I can always count on her for a podcast to listen to that allows me to learn more about me as a person. Also plug for her as an amazing entrepreneur. Check out her website! She is amazing coach on wellness, especially for women who are trying to break out of that "diet culture" https://linktr.ee/slacourse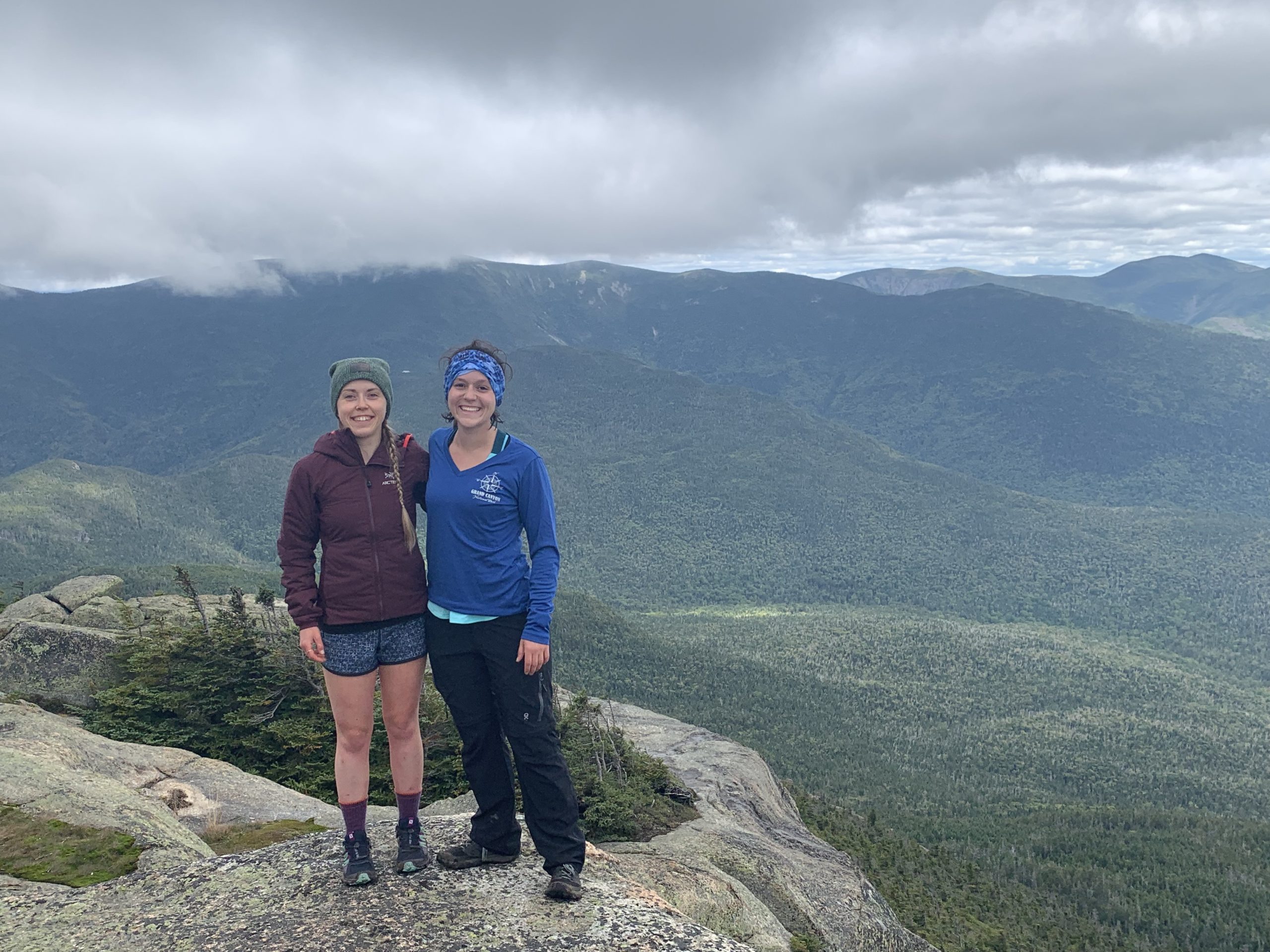 Alyssa F: My hiking soulmate. I sometimes wish we met earlier in life because I don't think I have hiked with anyone else more than I have hiked with you. We have been hiking in NY, Maine and NH. Hopefully one day other parts of the world. You are the reason why I have two of my other best hiking friends and I am forever grateful. I have also met so many hiking people through you and you make me less afraid to meet friends through social media. I couldn't even possibly talk about our hikes because there have been too many to count. I love how the second time we met, you stayed with me and we hiked the rest of your Terrifying 25 trails!
Dom: Sorry for all your suffering. For those of you who don't know, my boyfriend isn't exactly a hiker. We have this funny saying that I have "trail boyfriends" and he is okay with it because it means he does not have to hike with me. But of course, we have gone on a couple hikes together. He has even hiked one NH 4000 footer (attempted a second), two terrifying 25trails and two 52 with a view trails! He might not have been happy but he did it for me and I appreciate it. Next to my family, he is my biggest supporter and has probably listened to me the most talk about hiking, the poor guy. We did start our relationship off by me saying "in 2.5 years I am going to do this hike and if you are not okay with it, don't bother dating me" and here we are. Thanks for being so okay with this and for encouraging me to follow my dreams even when they don't make life easier for you.