Hey all! As you may or may not know, I have decided to embark on the journey of a lifetime and hike the ~2200mile Appalachian trail(AT). Exciting, right? People tend to hit the AT in two different ways. There are those extreme planners who begin prepping ages before their trip and there are those who sit on their hands and start planning two weeks before. Can you guess which one I am? Although I greatly love to think, organize, and plan for the AT, I am trying to be more easy-going. I haven't done as much planning as I expected in the last couple months.
One of the things I did plan the most is the Big Four! What's the Big Four, you ask? The Big Four consists of the following four items: pack, shelter, sleeping bag, and sleeping pad. These four tend to be the heaviest part of our pack, so I have put a lot of thought into them as my March departure date approaches.
1. Pack:
I went back and forth on this one so much. I originally planned to use my Osprey Aura AG 65 Pack that I have taken on so many backpacking trips. It has been my go-to pack for the last couple years. I am in love with the anti-gravity function of this pack. It makes it feel like I have a lighter pack than I actually do! The downside to this pack is that it weighs over 4lbs and the waistband rubs my hips raw. I figured I wouldn't be so happy with that for the 6 months I am going to be hiking. So what did I go with?
First off, I am super excited for this pack. I am by no way an Ultra Light Hiker, so all of this UL gear is very new to me. The great thing about this pack is that I still have the space of a 60L pack with the weight of an UL pack. This pack weighs in at 28oz ~ 1.75lbs! One of my favorite aspects of this pack is all the pockets. I like my backpacks how I like my dresses: pockets galore. More pockets always make me happy. My second favorite aspect is the removable sitpad! One of my least favorite things about backpacking is never having a comfortable place to sit when on breaks. After a while rocks and dirt start to get old. Considering I have 6 months of rock sitting ahead of me, I would like to be comfortable and this sit pad is going to give me that opportunity! Yay comfort! I am just overall excited about this pack! I have so much more to learn and am still trying to figure out how to use this pack to its fullest potential. I guess I have a lot of learning still do in the next 6 months.
2. Shelter: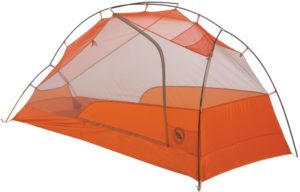 This was probably the easiest choice for me when it came to the Big Four. I am a Big Agnes girl through and through. I have been using a two person Big Agnes tent for years and it has never failed me! So, naturally I choose a Big Agnes tent! This one is a beauty for sure, weighing in at 34oz ~ 2lbs 2oz. It has a bathtub floor, meaning a bowled shaped bottom and high seams. If there is ever a lot of rain then this works as a bathtub to not allow rain to run through the seams during floods. We will see how much water this claim holds when it comes to the rain on the AT. It is also very easy to set up. The poles are easily assembled in one piece and it even has a side entry door that makes getting in and out so much easier than a front entrance. It allows me to roll out of my tent without having to climb over all of my other equipment. I totally could have gone with lighter tents, but I have always been so happy with Big Agnes, that I am going to stick with them.
As for footprint, I am hiker trash and I'm bringing a sheet of Tyvek–it's the lightest option!
3. Sleeping bag: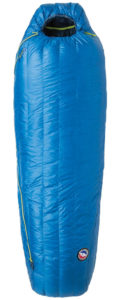 I went out on a limb when I bought my sleeping bag and I couldn't be happier. As with my tent, I stayed with Big Agnes. I took a bit of a risk and chose a sleeping bag that had zero reviews when I bought it. It has a few reviews now but still this was still dodgy territory. I was not disappointed! First off, this bag is so comfy and warm! I used it a couple times to test it at higher elevations in NH and I was never cold! One of the days, I was even warm hanging in my hammock. Probably my favorite thing about this sleeping bag is the integrated sleeping pad sleeve! I roll around a lot in my sleep, especially camping, and falling off my sleeping pad is super aggravating. This makes it (almost) impossible for me to fall off and I am very happy about it! Did I mention it also only weighs 2lbs 2oz? I'm not a UL girl, but damn, that is lightweight for a sleeping bag! I can't wait to go live in this for the next 6 months. I'm gonna be so snuggly!
4. Sleeping pad:
Last but certainly not least, the most important piece of equipment for me: a sleeping pad.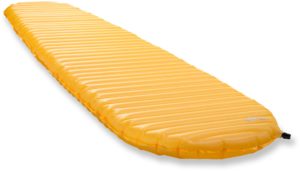 For years I used a self-inflating sleeping pad that was super heavy and I never got a good night's sleep with it. When it came time to decide on sleeping pads for the AT, I knew I would need something that would be light and comfortable. So the only logical choice for me is an inflatable sleeping pad. Weighing in at 12oz, you really cannot go wrong with this pad. I tried it out on a couple hikes and it helps me sleep in the woods more comfortably than my old pad. Sleeping in the woods is always a struggle. So my hope is the exhaustion will put me right to sleep on my plushy pad.
So there you have it! This is the gear I will be living in for 6 months of my life. Hope I like it!