It's been over a month since I started the AT. At my average mileage I would have been over 300+ miles at this point. Crazy to think that instead I am currently working at a field hospital as an RN for COVID-19 patients.
To be honest, I am sad, real sad. But life moves on. The trail will be there for me to hike in the future. Rather than dwell on the pandemic and moping around, I thought I'd post a rundown of my first amazing week on trail. When I get back on trail, I won't be actually doing a day-by-day, so consider this a treat!
Day One: March 16th 2020
Amicalola State Park to Stover Creek Shelter
Total miles today: 11.6
Miles on the AT: 2.8
This was a day where Special (a.k.a Ed), Dug (a.k.a. Erin), and I realized "Wow are we really here." I think between the three of us we said "GUY'S WE ARE ON THE AT " about a million times. Starting the trail was unreal. Nothing could bring our moods down.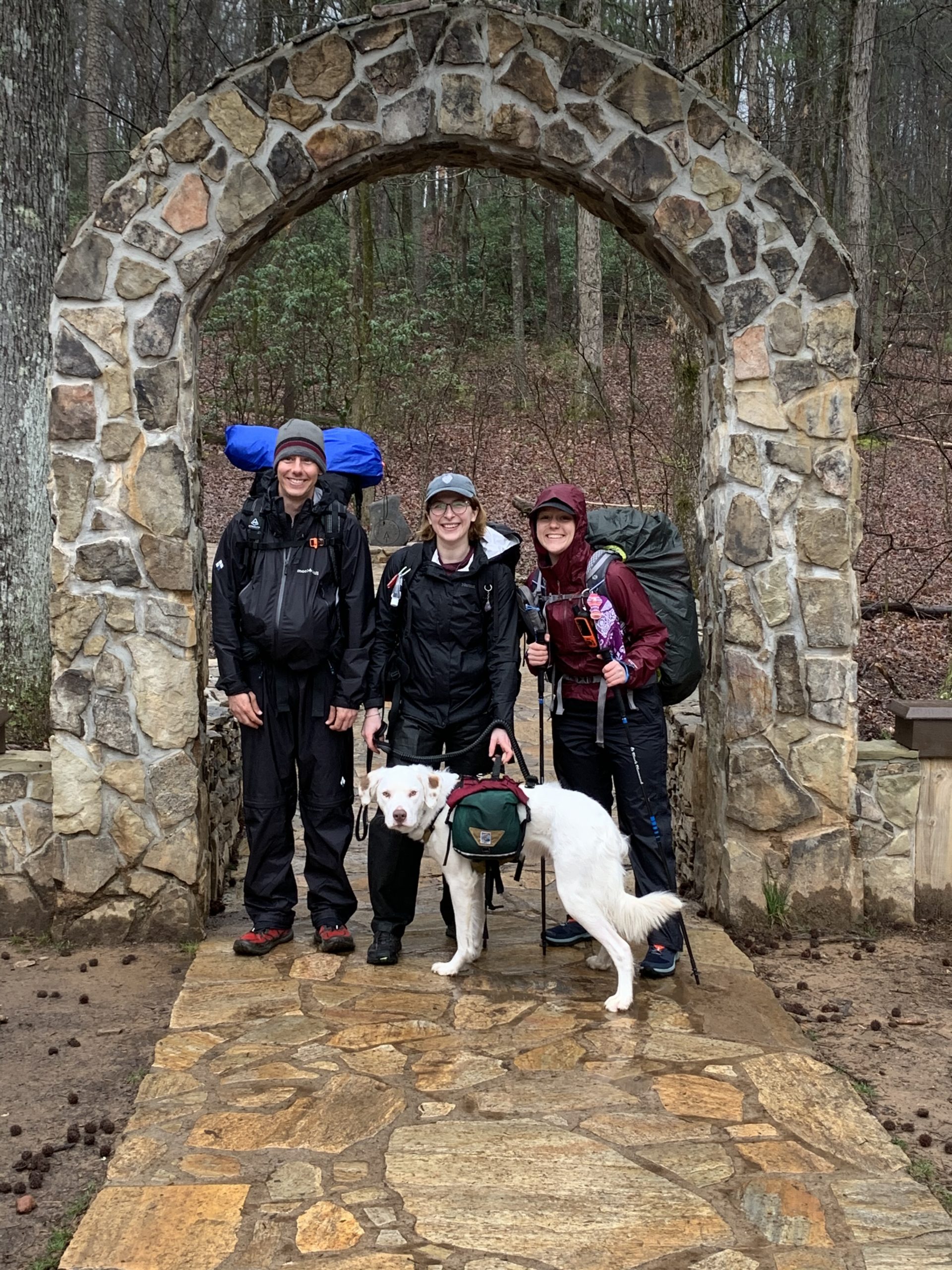 Weather started off as misty and rainy. We were all decked out in rain gear to start happy as can be. When I say happy I don't mean a typical "happy". I mean the happiest I have been in a very long time. That's saying a lot considering how happy I am generally. I was finally living my dream. I saved up money for three years, quit my job, sold my car, and moved out of my apartment. It's funny to say that this is my dream, when normally people's dreams are to get married and have children. I'm out here being NOT NORMAL apparently. But whatever, I'm cool with that. I love my life and was loving every second of the trail.
The first section of the trail is Amicalola Falls State Park and it involves a lot of steps. When I say a lot I mean 604 steps. I actually had a thru-hiker say to me the day before "skip the steps they suck." Everyone talks about the dreaded stairs. How the stairs are a killer. They all dread the stairs. I must be psycho because I LOVED the stairs. Just ask Special or Dug and they will tell you how fast I scurried up the stairs. I was just so excited. Not only were the stairs fun, there was a beautiful waterfall we passed!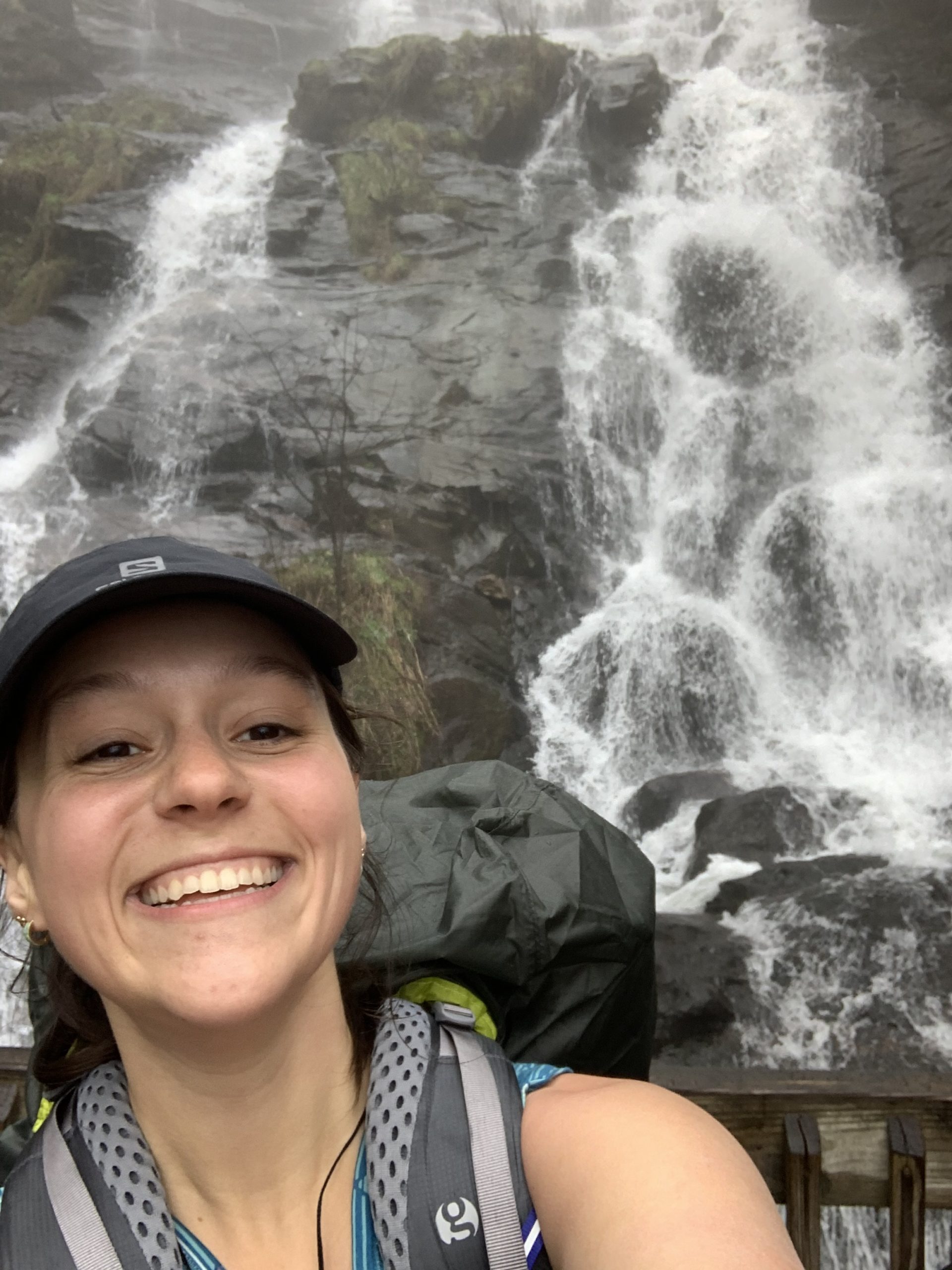 At the top of the falls Dug's stepdad was waiting with coffee and breakfast prepared!!!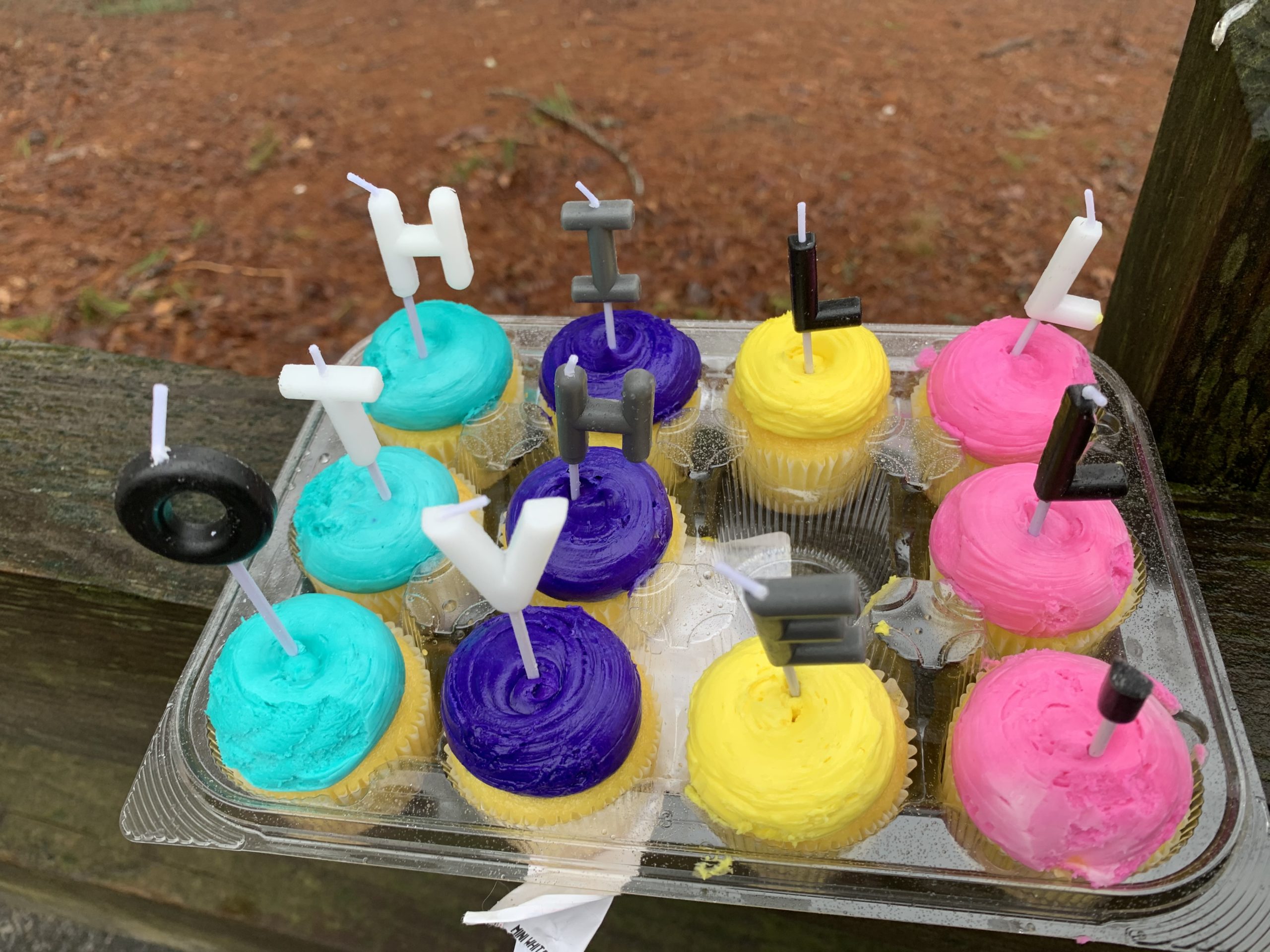 The rest of the day took us on the beautiful approach trail 8.8 miles up to the top of Springer mountain where the AT actually starts as well as 2.8 miles of the actual AT. The trail on day one was crazy beautiful: a foggy "Slenderman looking" forest.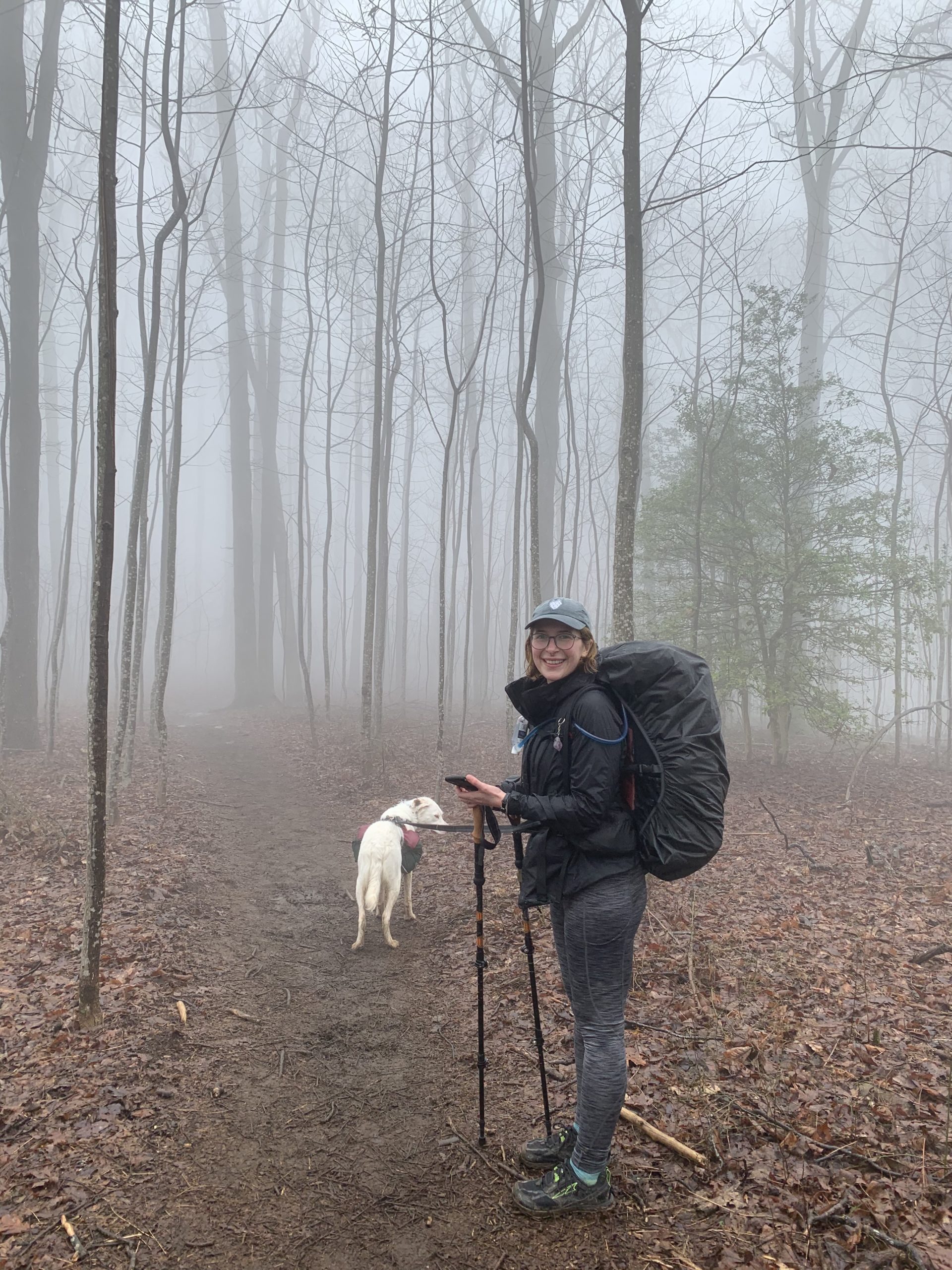 When we finally saw the top of Springer I wanted to cry. I was finally here. I was finally doing that dream. To top it off, the sun came out when we arrived at Springer. It couldn't have been more perfect.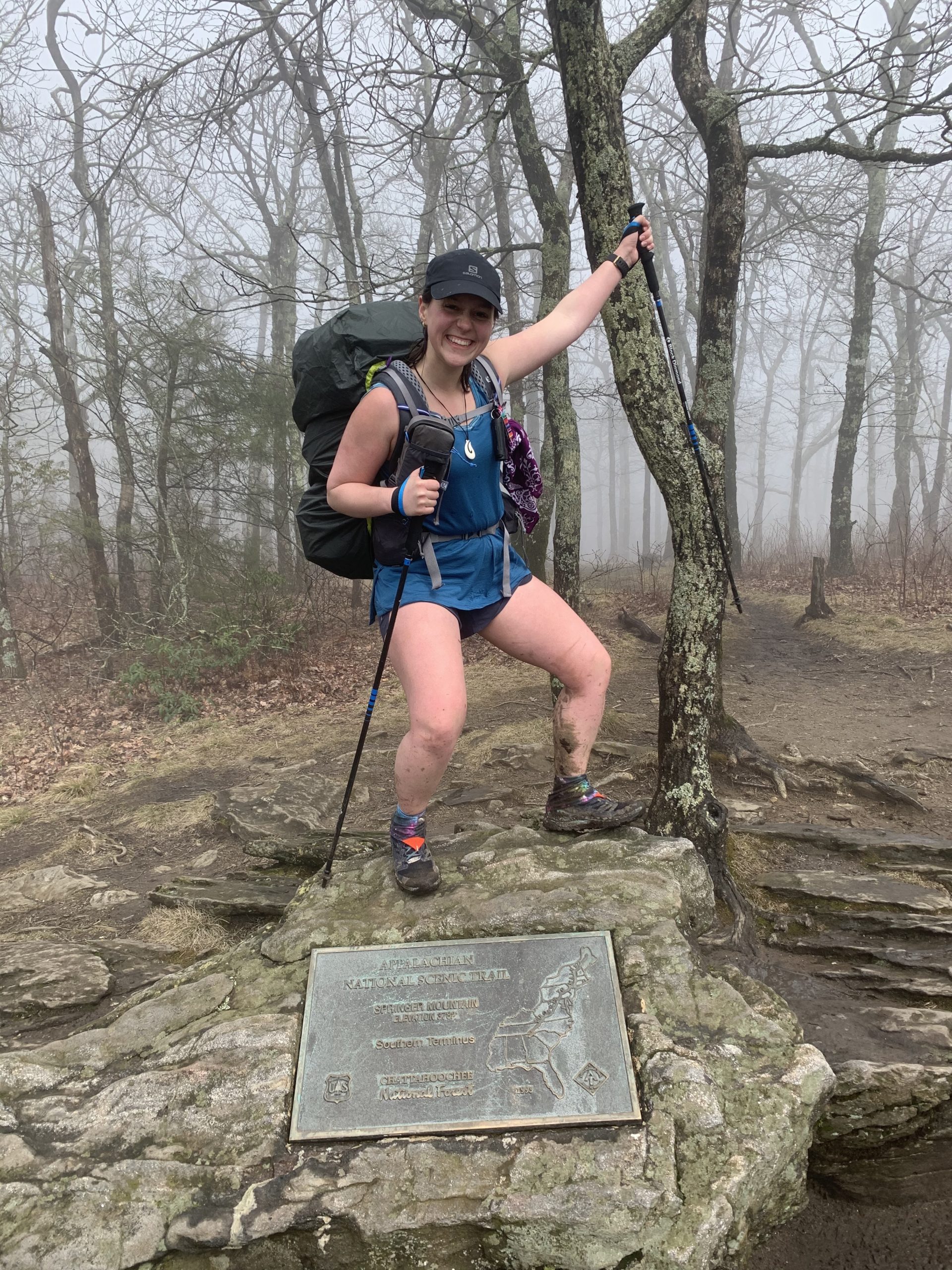 The only downside to the day was my back bothering me, but I made it through. There was nothing that was going to stop me from finishing this trail. Plus we had a shot of a Fireball with a couple other thru-hikers to commemorate our first day! 10/10 day for sure.
Day Two: March 17th 2020
Stover Creek Shelter to Justus Creek Shelter
Total miles today: 11.5
Miles on the AT 14.3
Well we learned today that we were the slow moving crew. We decided to wake up at 0800, but did not end up getting going until almost 10am. I feel like this is to be expected at first because none of us knew how to pack our bags properly and just pack up camp in general. I am sure as time goes on we would get faster. Weather was rough in the morning. It poured all morning until lunch where we got beautiful sunshine for the rest of the afternoon! (yay!)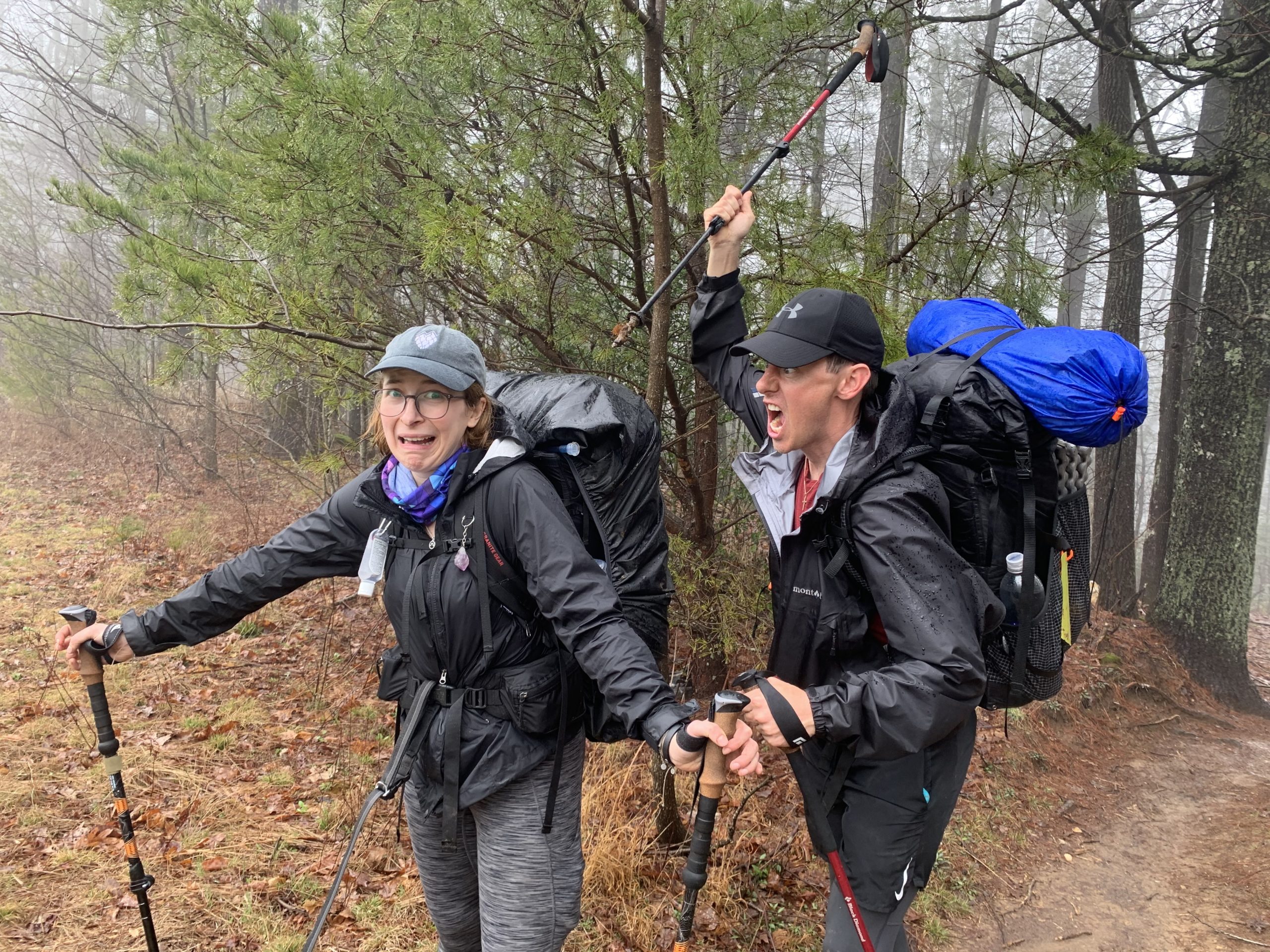 My morale this day was pretty good. I was happy to be on the trail and grateful to be finally hiking. Although this was the first day we started to hear about all the COVID-19 issues. People were concerned about whether we should be on trail at all. This day the ATC officially asked all thru-hikers who haven't started to postpone their hikes. At this point, I felt safer on trail then I would be working as a nurse at home with COVID-19 patients. But we were nervous about how resupply would look as we progressed on trail. For now we are continuing hiking and we will see where things go over the next few days. We felt good about staying on trail.
Some fun things throughout the day:
Eerie views with fog and green that feels like a scary movie

Creepy fog all morning

Making Special climb into a massive hole in a tree

This massive hole in a tree I made Special climb into

Saw a cute orange salamander!

Look how cute he is!
Day Three: March 18th 2020
Justus Creek Shelter to Lance Creek
Total miles today: 9.7
Miles on the AT: 24
Today was a day filled with games. We all discussed different types of games we would play at camp as kids. Games like 9 Rocks, I'm Going on a Picnic, and Big Blue Moon. Dug and I both figured out each other's games really quickly and tortured Special with them. We spent hours trying to figure out the puzzle Special gave to us! This distracted us in the morning because we all started to become even more concerned with everything going on with COVID. Morale was really low to be honest. We saw a couple handful of people get off the trail because of it. We spent a long time at lunch discussing and trying to figure out what we were going to do. My biggest concern was spreading COVID to all the little trail towns. Who knows if I am a carrier? It didn't help that it would be raining all day long.
We also toyed with the idea of resupplying the next day since we sent boxes and trying to carry as much food as possible. That way we will limit exposure and limit transferring it up trail. I am feeling really down this day… All we were thinking about is what to do about this situation. I knew the trail would be mentally hard, but not in this way.
Highlight of the day: We are starting to make friends and can start to see some of these people becoming tramily. And we saw our first views!
Day Four: March 19th 2020
Lance Creek to Bull Gap
Total miles today: 8.4
Miles on the AT: 32.4
Resupply day!!! We were so excited for resupply that we got up at 0600. Special ended up hiking ahead of us because he wanted to get to resupply early. We also had the first big climb of the AT: Blood Mountain ooooo! To be honest this hike was not as bad as expected. People kept saying it was so hard but I found it to be pretty easy. Blood Mountain was beautiful and we lucked out with a view! It had been foggy all morning and the sun broke when we got to the top!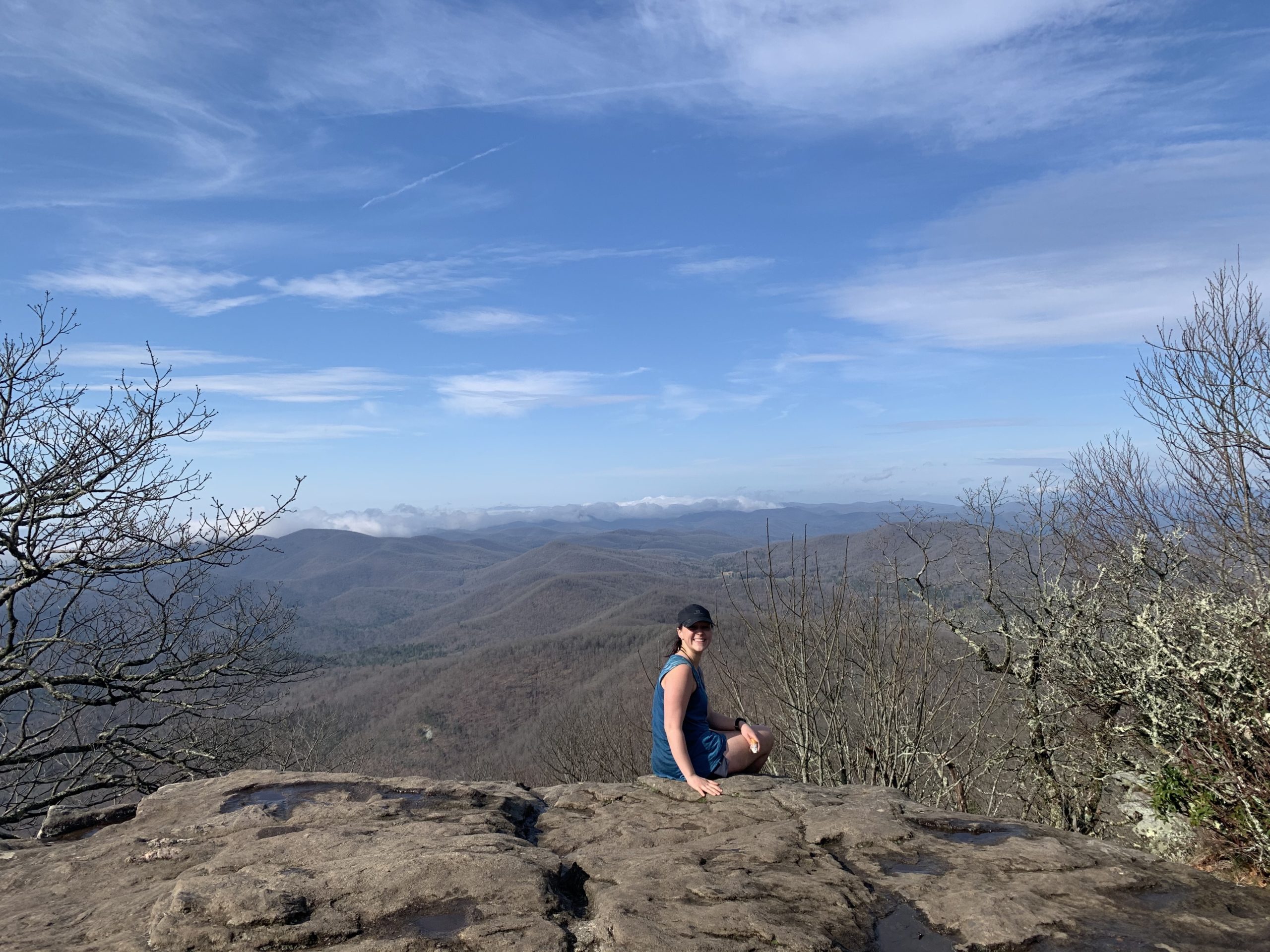 There is a cool shelter at the top and you can stay there if you have a bear canister. After the descent from Blood Mountain was our resupply at Neels Gap. There were so many people here and on the descent. It was crazy the amount of day hikers that were out. Almost nerve wracking. Who knows who has COVID? Some thru-hikers did create a trail name for COVID. Peaches (tbh I don't know his actual name) called it "coconut virus" and it just stuck among thru-hikers. Just a little bit of morbid brightness in the darkness that is this pandemic. We wanted to push more miles today, but after Neels Gap we just didn't have the emotional energy to do it.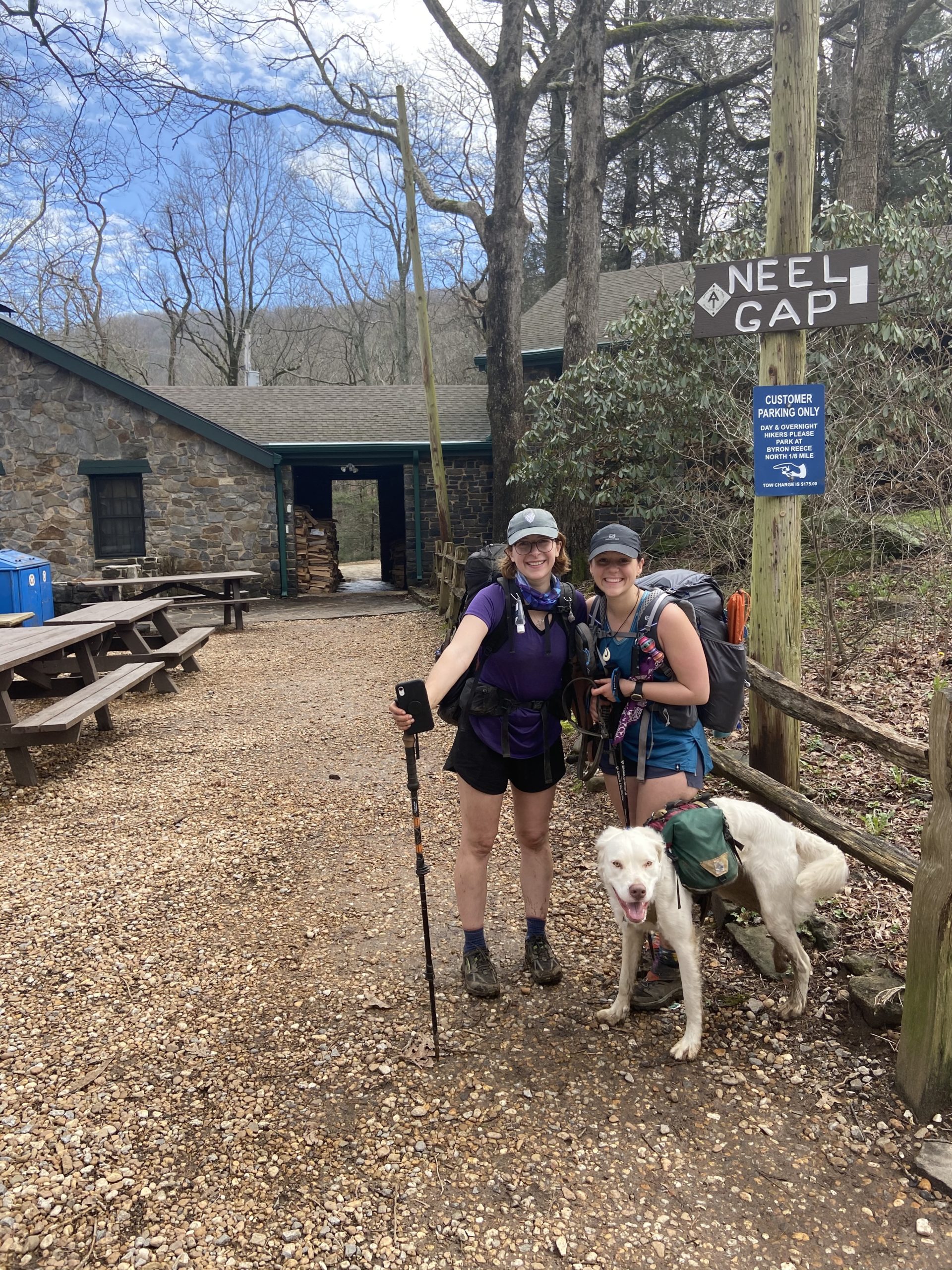 Dug and I ended up not going all the way to the camp Special went to and we camped soon after the resupply. Dug also had horrible blisters that I had to treat and care for. Thankful for my nursing knowledge and knowing the proper thing to do! Also… ask Dug how this went because I laughed the whole time while I popped them.
Highlight of the day: Trying to hang a bear bag. It was Struggle City to the extreme. I think it took us almost an hour. It also didn't help that Falkor (a.k.a Ollie) was stick-happy and would jump on me any time I tried to throw the rope. At one point, I got on the shoulders of our new friend Level One (a.k.a Emilio) to get the bag higher. It didn't work but we did get a lot of laughs.
Day Five: March 20th 2020
Bull Gap to Poplar Stamp Gap
Total miles today: 11.8
Miles on the AT: 44.2
My trail journal entry from today really shows you how I am really feeling. "Today was a really hard day morale wise. I struggled through the first section. It is hard to know what is right to do. Most people in my life are telling me to stay on trail but people online are telling us we are selfish for continuing our hike. I don't know how to feel about it. We will continue to hike until Monday and look at how the virus is affecting things and how it is progressing before we make our decision. Dom (my BF) says he supports whatever decision I make. Mom is pushing me to stay on the trail. I've cried a couple times today. My friend from work Brianna texted me a little bit and made me feel better about staying on trail. A lot can change in 2.5 days. Otherwise, it was a good day. We pushed, got some good mileage, and had some beautiful views. It was supposed to rain but it turned out sunny all day. I even got a sunburn and had to put on my long sleeve shirt to prevent my shoulders from burning more. Whoops.
We made some more friends today! A young father and his daughter made a fire for us, but are currently struggling to get it going. Hopefully I feel better tomorrow."
As you can see, I couldn't even focus on the trail today. All the stuff about the pandemic and the hatred we were getting online was really hard to handle. On the bright side our friend Which Way (also don't know her actual name) drew an arrow with chalk that led us to a great view. This was the first time I had service on trail and was able to call my mom and dad. That really helped.
Day Six: March 21th 2020
Poplar Stamp Gap to Tray Mountain Shelter
Total miles today: 14
Miles on the AT: 58.2
Today was a big day! We did 14 miles and my legs were feeling it big time. I was having some IT band issues and spent a lot of the day when resting massaging and stretching it out. My body was starting to accept sleeping outside and I had been sleeping much better at night. Most of the day was easy mileage with not a huge amount of elevation loss or gain. We were going to camp two miles earlier but we decided we did not want to start our next day with a huge climb up a mountain.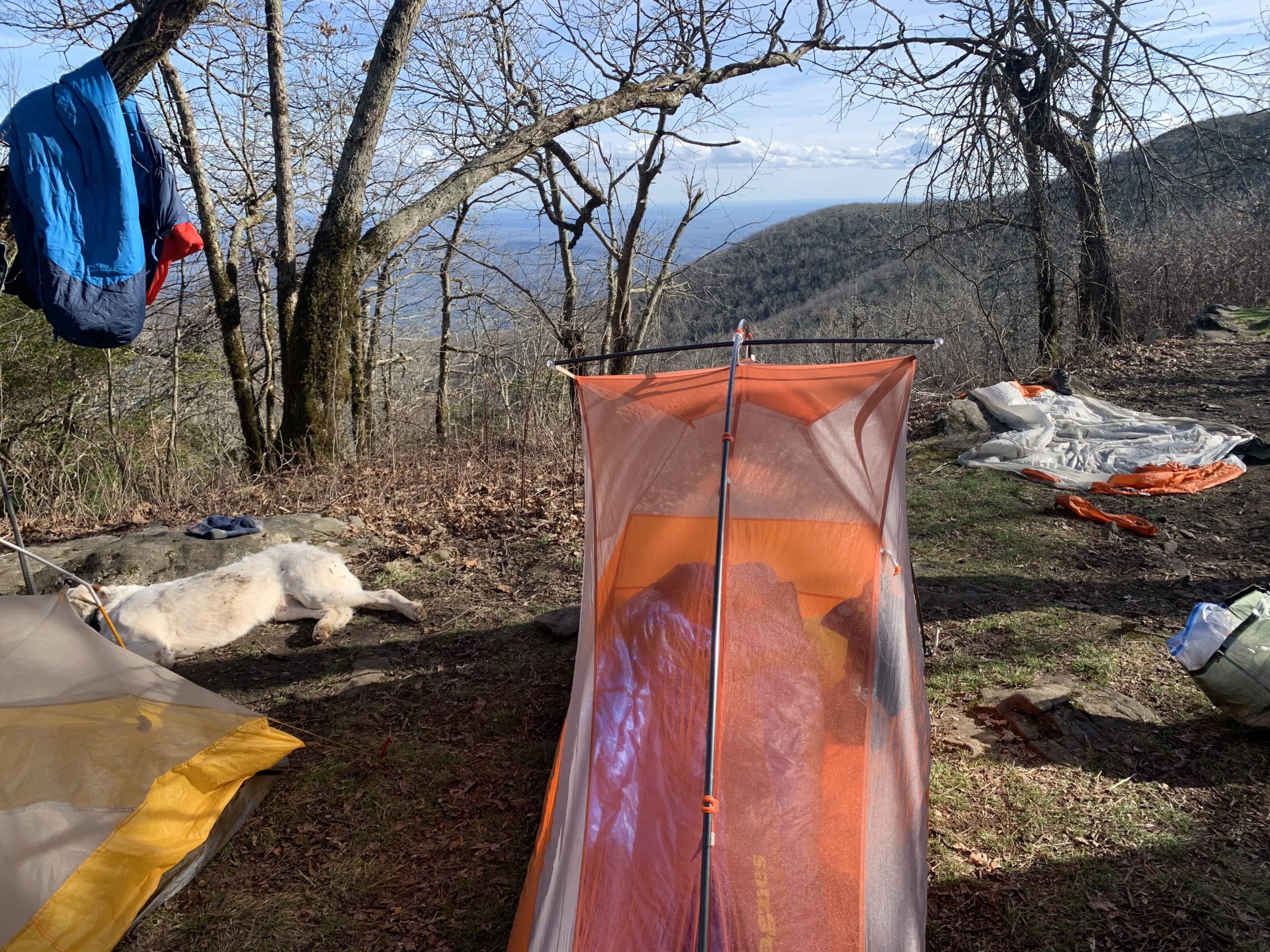 We were trying our best to social distance, but it had been really hard. There were so many day hikers along this trail, it's insane. We felt like every five minutes we were running into huge groups of hikers along the trail, which made us feel weird about hiking and not quarantining like our friends and families. Overall, I felt pretty good about being out there but still had my concerns about what the right thing to do was. We kept saying to ourselves. "We will make our decision at Hiawassee," which was the next resupply town. When we finally got to camp, it was on top of Tray Mountain and had a beautiful view where we got to watch sunset! I also burned myself on my stove… The issue with this shelter was that there were SOOOO many people, it was unnerving to be around such a huge group.
Fun fact of the day: We saw a trail runner running by. His face was covered in white, and I decided to call him sunscreen. Erin and I got a huge kick out of that.
Day Seven: March 22nd 2020
Tray Mountain Shelter to Dicks Creek Gap
Total miles today: 11
Miles on the AT: 59.2
This was the first overnight where I woke up freezing cold in the middle of the night. Thankfully, I had plenty of layers to put on and got nice and toasty. Of course that caused me to sleep through my 0600 alarm…whoops. I had a message from Special saying that the hotel we wanted to stay at was filled up the previous night, so I gave them a call and booked a hotel and shuttle for the night. Thankfully I had service, a rarity for me on trail. This was a sad day. We had a point in time where we were going up a blue blaze trail to go and see the view of Powell mountain. Dug and I looked at each other and both knew…we were getting off trail because of COVID tonight. We took in what would be our final view on the AT before hiking down to our shuttle. Also we both had a good cry.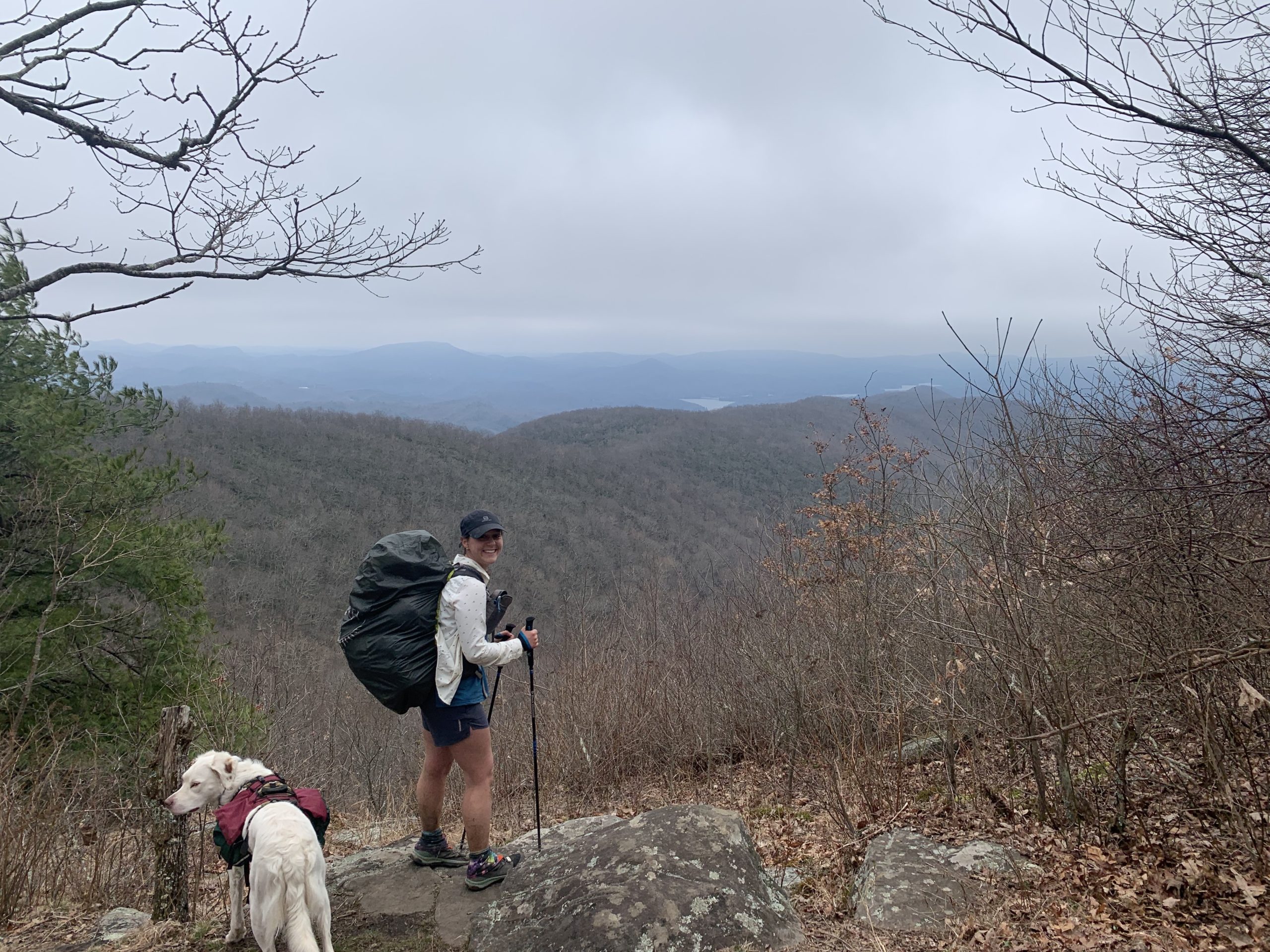 We decided we were lucky though. We didn't get to hike much of the trail, but we sure got to see some beautiful sites. Just in those seven days we saw so many different beautiful landscapes. This day alone we had the woods, a ridge walk, and what seemed like a jungle.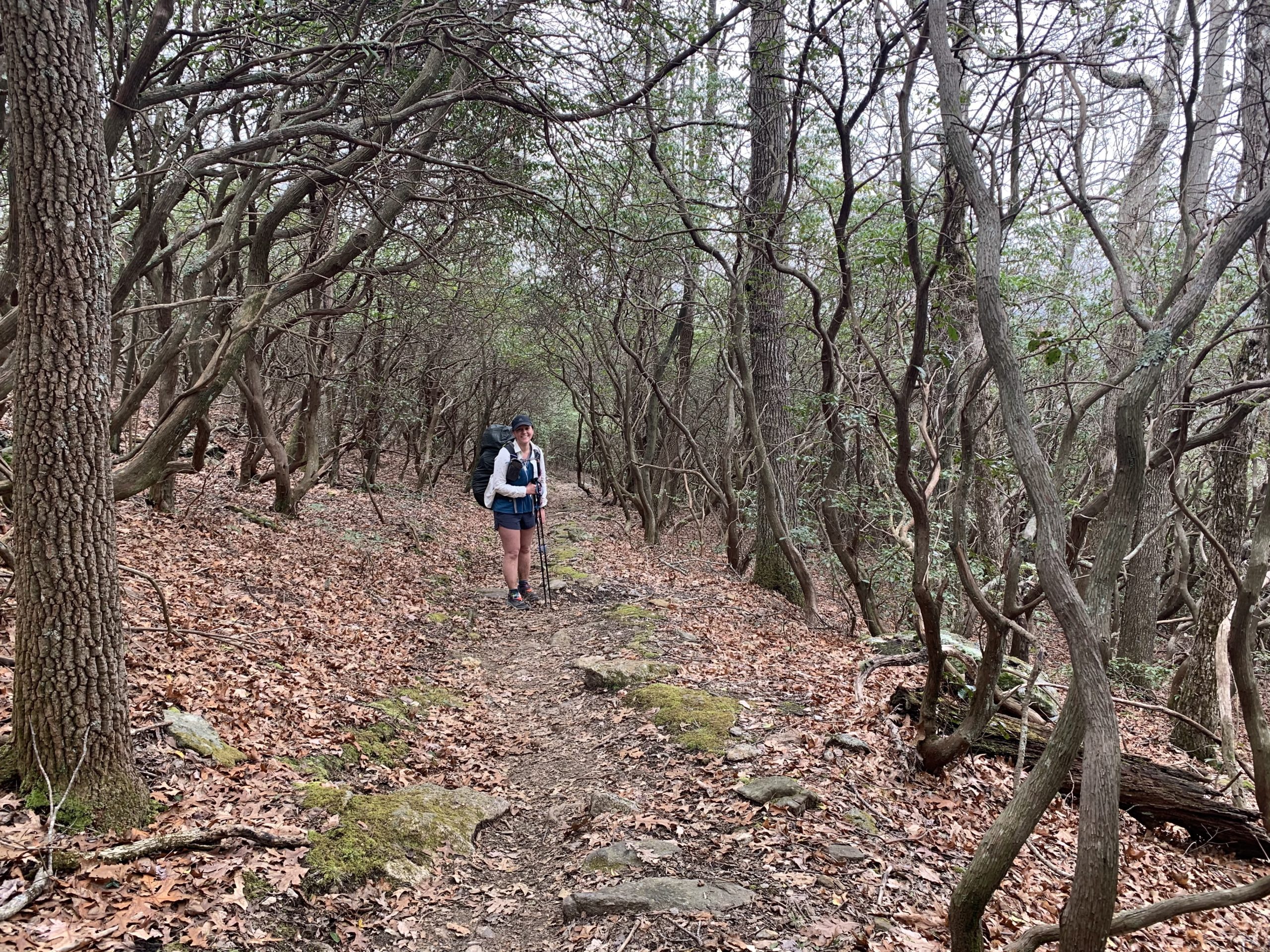 We also didn't stop so much for water and just kept pushing because we just wanted to get to town. This made for a hard day because we were dehydrated for sure. When we finally got to Dicks Creek Gap, our shuttle showed up about five minutes later and we signed into our hotel room for the night.
Dug and I both called our families and cried. We knew we were making the right decision. In "celebration" of completing our first week we got Dairy Queen for dinner because why not?
As you can see, it was an emotional seven days on trail. I had the time of my life and I know now that when I am able to finally start my thru-hike that I am physically and mentally prepared to complete it. AT 2021 comeback anyone?